Children's Magic
Are you planning a birthday party for your son or daughter?
Are you looking for an affordable magician to entertain your child and their friends?
Look no further – the magic of "Glendini" is the perfect solution to your party entertainment needs.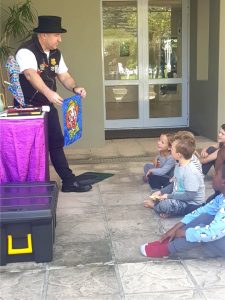 "Glendini" specialises in children's magic and has hundreds of parties and performances under his belt. My positive customer feedback speaks for itself. I offer a 30-minute show and a 45-minute show which is suited to your needs especially if you have other activities planned for the day. My magic teaching show for ages 9 and up is also a hit and will equip your children with enough routines get started in magic.
Brace yourself for a journey of Magic and Fantasy as "Glendini" brings joy, laughter and excitement to the lives of your little ones.
My interactive magic show will keep your children sitting still and enjoying every minute as I perform a variety of age appropriate routines. Visual props such as rabbits, clowns, ice-cream trucks, cats and lots of storytelling will keep your children focused, smiling, screaming with delight and having the best time on their special day. I also make a fuss of the birthday boy/girl so that they get center stage and get to feel special in front of their friends.
Just watching the smiles on your children's faces will be satisfaction enough that you made the right choice by hiring me to perform at your party.